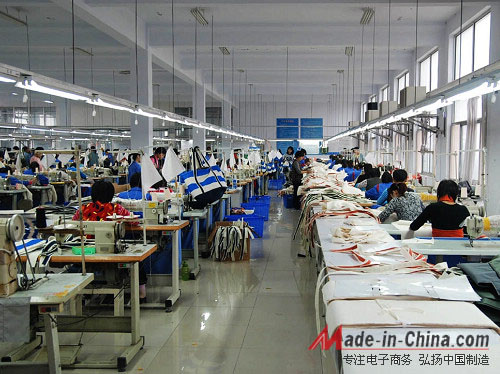 Since China's accession to the World Trade Organization (WTO) in 2001, China's textile and apparel industry has been ups and downs for more than 10 years. The textile and garment industry has been called China's most benefited from the "WTO accession" industry. In 2010, China's textile and apparel exports accounted for 32.71% of the global market. In 2000, before entering the WTO, this proportion was only 15%. . Since the first half of this year, textile and apparel exports have also achieved remarkable results. According to the report of the China General Administration of Customs, from January to August 2011, garment exports increased by 26.9% year-on-year to US$17.09 billion; in July, garment exports reached the highest historical value of US$17.29 billion, from January to August. The export value of garments reached US$10.02 billion, a year-on-year increase of 25.7%.

Although the export situation has generally risen, but in the past two years, due to changes in the international situation and the impact of various cost factors, the hidden dangers of China's export industry have quietly emerged, and the textile and apparel industry is also deeply affected.

Internal Worries: Rising Raw Material Costs, Decline in Orders Due to Appreciation of Value Since 2009, China's labor costs have risen, *** appreciation, raw material price fluctuations, and ** interest rate increases have increased operating costs, affecting China's textile and apparel companies. International Competitiveness. According to analysts, workers' wages have risen by 20% so far. In response, many international brands have begun to shift production to other countries. According to reports, Fast Retailing, a subsidiary of Uniqlo, plans to increase its commissioned production from its low-priced apparel brands to factories in Bangladesh and Indonesia, raising the current production rate of 20-30% outside China to 50. %; And sports brand Adidas has publicly stated that as early as more than three years ago, due to high wages in China, their production began to move to India, Vietnam and other countries. At that time, about half of their sportswear was produced in China.

The increase in production costs has also led to an increase in the prices of textile and apparel products, which has gradually reduced China's share in the textile and apparel export market. The advantages of some countries in Southeast Asia and the Western Hemisphere have become increasingly prominent and have become powerful overseas competition that Chinese companies cannot ignore. opponent. Data show that in the past 12 months, China's share of apparel imports in the United States market has fallen by 40.8%, while exports from the Philippines, Indonesia and other countries show signs of increasing.

In addition, under the background of continuous appreciation of the value of ***, many export-oriented small enterprises are afraid to accept long singles and large orders; despite the pressure of exchange rate fluctuations, in order to avoid the loss of customers, the price increase of such small enterprises is relatively low. The profit margin has further narrowed. From the private lending crisis that has ignited recent days, it can also be seen that the export issues such as the loss of orders have directly affected the SME's capital chain and operations.

Externalities: debt crisis in Europe and the United States, Sino-U.S. trade crisis threatens export status. The current debt crisis in Europe and the United States is intensifying. The economic downturn may prompt European and American governments to formulate policies to encourage exports to restrict imports. The pressure on China's trade export environment will gradually increase. Export situation is still more severe.

Although accession to the WTO has enabled Chinese companies to obtain a certain export environment, China has always been the country that suffers from foreign trade remedies, especially anti-dumping, anti-subsidy, safeguard measures, and special safeguard measures. Since the subprime mortgage crisis, Europe and the United States have experienced economic downturns. In response to China's introduction of anti-dumping policies, clothing and textiles are also one of the most targeted products. The United States is one of the core export markets for textiles and apparel in China. Both China and the United States have a direct and continuous dispute over the trade friction between apparel and textiles. Recently, the "US-Korea Free Trade Agreement" signed between the United States and South Korea has also become the focus of debate among all parties. The signing of this agreement allows South Korean textile and apparel to enjoy a tariff rate of 8% to 30% when exporting to the United States. Although it does not involve China, it has caused China's similar products to be significantly disadvantaged in competition. This "trade transfer effect" has even May impact our original market share.

With the gradual warming of US trade protection to China, various countries in the world have begun anti-dumping investigations of Chinese goods from various industries. All kinds of export barriers and hidden dangers in trade war have made Chinese companies in an increasingly stressful trading environment. The data shows that from the "export price elasticity" criterion, the commodities with the lowest price elasticity of China's top ten export products from 2005 to 2010 are: mineral products, umbrellas for shoes and hats, feather products, artificial flowers, human hair products, and cicadas. Metals and their products. If China and the United States start a trade war, the adverse impact of apparel products as a product with little room for pricing will be even greater.

The development of the domestic market has become a consensus that the export environment has become increasingly degraded, and expanding the domestic market has become a common view in the industry. To meet the downturn of the foreign apparel market, the prosperity of the domestic market is undoubtedly a shot at home and abroad textile and apparel companies. According to authoritative analysts, in the past 10 years, the market size of the Chinese fashion industry has tripled. By the end of 2010, it has reached 400 billion yuan, and is expected to become one of the world's largest fashion retail markets in the next decade; According to another report, in the past 12 years, China has continuously become the world's largest female footwear consumption market. In the face of this "big cake", the domestic apparel brands have competed against each other, and foreign brands have also joined the competition to gain a share.

However, although the domestic sales market is large, it is not easy to develop. For SMEs, the brand influence and operational capabilities are relatively weak. They need to make targeted marketing methods for the domestic market environment and marketing channels, and they need to actively innovate. In addition to conventional supermarkets, shops, department stores and other sales channels, it is also possible to develop new ways of online marketing and microblogging marketing based on current trends to open up multi-party influence.

To increase competitiveness is the key to facing the pressure of cost and export environment. The labor-intensive production model obviously does not meet the needs of the current trade situation. At present, in order to ease the pressure on exports, companies are adjusting their prices accordingly based on rising costs and exchange rates, but From a long-term point of view, what enterprises need to do most is to change their development model, increase production efficiency, and reduce consumption. At the same time, they will focus more on product development and technological innovation to improve product quality and added value, thereby enhancing the competitiveness of the international market.

Cotton Hats , Cotton Baseball Caps, Fashion Caps , Fashion Caps For Men

China Fashion caps & hats reliable supplier with high quality and good workmanship.

Our company has years experience in making various designs caps and hats, including Baseball cap, Snapback cap, Trucker cap , Fedora hat, Beret hat, Knitted hat, Animal hat, Children cap, etc.

The following are some pictures for your reference:



Our company are equipped with the full production line machines, such as Sewing machine, Embroidery machine, Printing machine, Moulding machine.etc. and all the workers are experienced in this line, professional in handling the operation lines.


The following are the Production process:
About the material, we have cotton, polyester, acrylic,wool,etc. Different caps using different materials. You can choose the material and colors you want. we will make that according to your request. The following are some fabric swatch for your reference:
For the Logo designs, there are Flat embroidery, 3D embroidery, Sticking cloth embroidery, Screen print, Heat transfer,etc. See the following:
Professional exporting packing, ensure the caps and hats shape better.
You can choose different shipping ways according to your order:

We keep pace with the fashion trends in the world, and make new designs products each week, show samples to our customers and help you open and develop your market.

We are confident to help you expand your business and increase you market share in a short time, achieve mutual success.





Your Success is our Business. Pls feel free to contact us for further information.Thank you.





Caps & hats

Cotton Hats, Cotton Baseball Caps, Fashion Caps, Fashion Caps For Men

Yiwu Changyue import & export Co.,ltd. , http://www.chsportwear.com